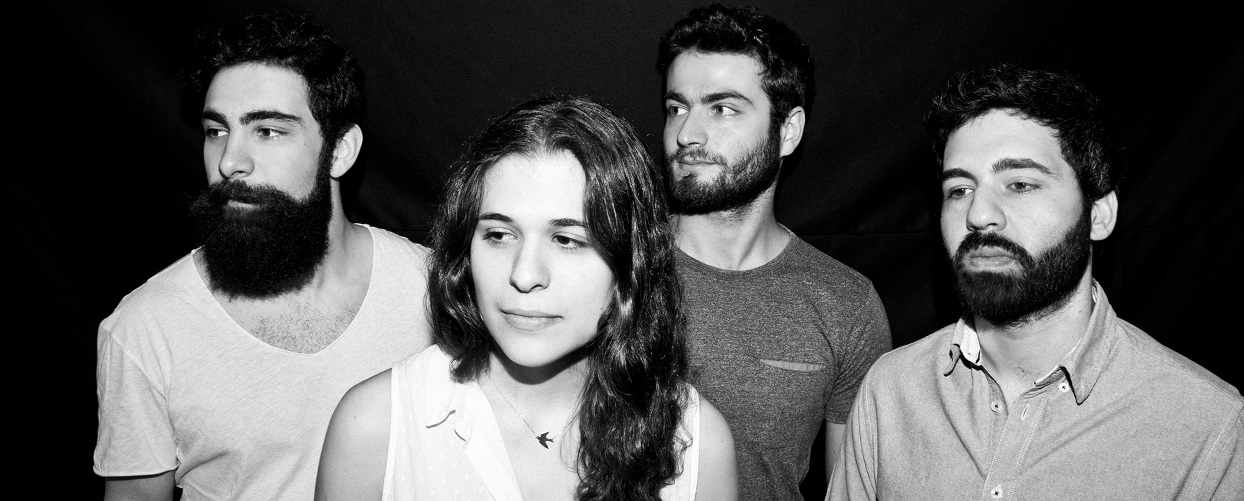 Postcards is a folk rock/dream pop band based in Beirut, Lebanon formed in the summer of
2012, composed of Julia Sabra (ukulele, mandolin, guitar and vocals), Marwan Tohme
(guitars and vocals), Pascal Semerdjian (drums, harmonica, and vocals) and Rany Bechara
(bass, keyboard and vocals).The band started off by playing the pub circuit across Beirut,
performing a varied repertoire of both English and American folk-rock music, gradually
building a loyal fan base while writing the songs that would become their first EP,
Lakehouse, released in September 2013.
They started working on their second EP in late 2014 in Beirut under the capable
supervision of sound engineer and producer Fadi Tabbal from Tunefork Studios, and 'What
Lies So Still' was released in July 2015 to excellent reviews. On this EP, there is a clear
departure from the basic 'rootsy' foundation of their earlier songs, and the band
investigates new territory, both structurally and sonically. The band manages to create a
lush and dreamy sound-world, equally informed by traditional and contemporary folk
genres, and delivers six gentle ditties of atmospheric beauty. In the words of
Adam Grundey from Triplew.me, the six songs are "more complex, less conventional, and all
the richer for it (…) The sound of a self-confident group of artists pushing themselves to
articulate, musically and lyrically, what they're feeling, What Lies So Still is a gorgeous set of
songs that feel utterly genuine and built-to-last."
Postcards have played shows all across Lebanon, toured Jordan, Dubai, the UK, France,
Portugal and Italy, opened for Beirut and Angus and Julia Stone, and performed at festivals
in Lebanon and abroad (Wilderness Festival, Byblos International Festival, Wickerpark
Festival). They are currently working on their debut album to be released in 2017.